Cajeta is a Mexican caramel sauce that is made of sweetened goat's milk that is simmered until it thickens and caramelizes.  This makes a perfect topping for any dessert!
This recipe came about when I picked up some goats milk on clearance at my local grocery store.  I brought it home and started to think what I should make with it.  Originally I planned to make whipped cream out of it, but that sounded a tad too ambitious for this time of year.  Anyone else feeling the urgent need to finalize their Christmas baking lists?  Yes, I make lists 🙂
A fabulous dessert topping
Cajeta sounded like a wonderful topping for a pumpkin cheesecake (look forward to this post tomorrow!), and so I decided on making Cajeta.  I can not stress how easy this is.  Yes, it takes about 1.5 hours to make, but you just let it simmer away and give it a stir every so often when passing by.  How easy is that!?!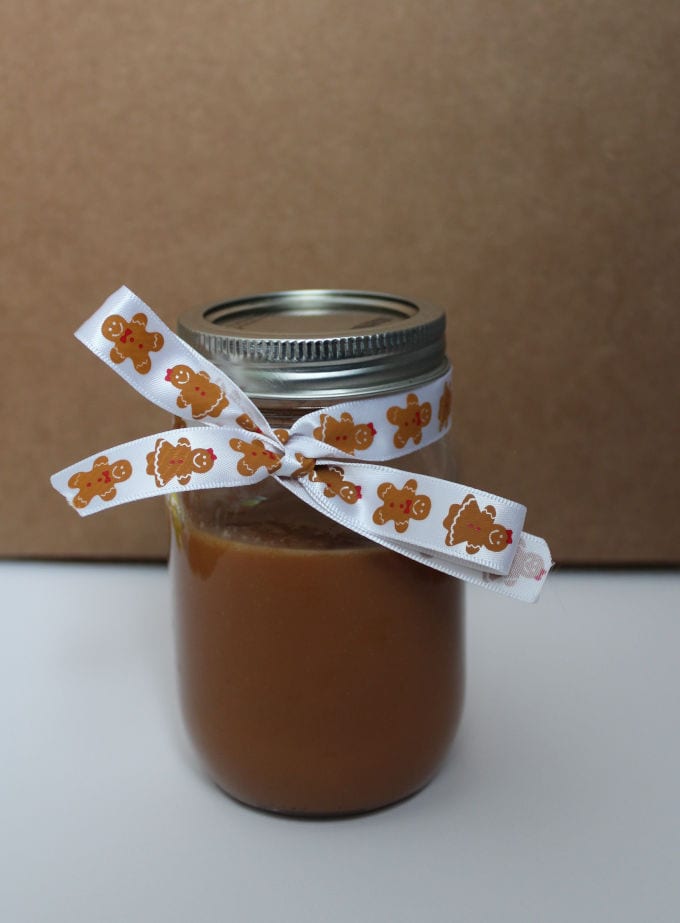 How to make Cajeta
You start with goats milk, sugar, cinnamon stick, salt, and vanilla in a large pot over medium heat.  You bring this to a boil and then add in baking soda.  The baking soda helps bring the milk to a high heat without scorching the heck out of it.  This will froth a little bit with the addition of baking soda, so make sure you use a large pot.  Turn down the heat until the mixture is at a gentle simmer. Stir every 10 mins or so until it has turned a golden brown and is thick enough to coat the back of a spoon.
If you like dulce de leche then you will love Cajeta!  I urge you to try this recipe and let me know what you think!
Enjoy,

Mexican Caramel Sauce (Cajeta)
Ingredients
1 litre goat's milk
1 cup sugar
1 cinnamon stick
½ tsp kosher salt
2 tsp vanilla extract
½ tsp baking soda
Instructions
In a large pot, stir together milk, sugar, cinnamon stick, salt, and vanilla. Bring to a boil over medium heat, stirring often.
Remove from heat and stir in baking soda.
Lower heat and simmer mixture to a gentle simmer. Stir every 10 minutes for about 1.5 hours, until it turns a light golden brown colour. Remove cinnamon stick and stir occasionally until mixture has thickened and coasts the back of the spoon.
Allow mixture to cool and store in airtight container. This will keep for 1 week refrigerated.
Recipe adapted from Tablespoon.