This creamy citrus cheesecake has the perfect amount of orange flavour while the blood oranges give it a perfect pink hue! This is a perfect winter dessert!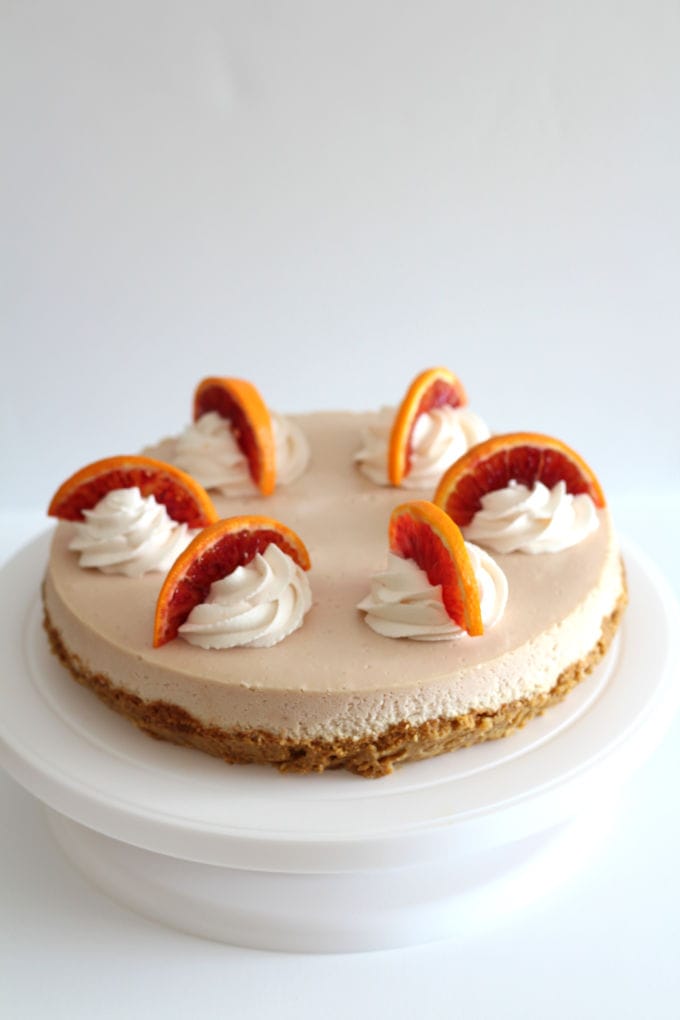 I absolutely love, love, love blood oranges! I get so excited each year when I see them in the grocery store. They never seem to last long in stores and if you blink, you will miss them. I recently bought some blood oranges, brought them home and thought what to make with them. It sprung to me - cheesecake! I absolutely love cheesecake and am considering it my personal mission to create tons of cheesecake recipes for this blog!
Jump straight to the recipe!
What ingredients do I need? ?
Graham cracker crumbs
Salted butter - you can use unsalted and add a pinch of salt to it if you want.
Cream cheese - I use full fat cream cheese for better flavour.
Granulated sugar
Flour - A bit of all purpose flour keeps the cheesecake from cracking.
Blood orange juice - you will need about 5 blood oranges to make enough juice for the filling and the whipped cream.
Large eggs
Heavy cream
Powdered sugar
How do I make a cheesecake? ?
Cheesecakes can be intimidating to make, but once you try making one, you will realize it's quite easy but a little time consuming. The trick is to to take your time and do all the steps, i.e. don't skip on the water bath. This is a super essential step to ensure the cheesecake bakes evenly and helps it keep from drying out and cracking.
To start, I decided on a graham cracker crust. I thought that this crust would compliment the blood orange cheesecake filling better than vanilla wafer crumbs or chocolate.
Every cheesecake filling starts with cream cheese. Mix the cream cheese, sugar and a bit of flour together until it is smooth. I use a bit of flour in my cheesecakes because it helps the cheesecake keep from cracking during baking.
Next add in blood orange juice. I used fresh blood orange juice. You will need about 4 blood oranges to get the ½ cup juice needed for this recipe. I contemplated adding in blood orange zest as well, but decided that I wanted a smooth cheesecake filling and left them out. This cheesecake filling has the perfect amount of blood orange taste.
Add in eggs, one at a time and mix until you have a smooth filling. Then the cheesecake is ready to be baked.
How do I make a water bath? ?
To bake the cheesecake, you want to use a water bath. Ever since I started baking my cheesecakes in a water bath, my cheesecakes have come out perfect. So don't skip this step!
I like to cover the outsides of my springform pan with aluminum foil. Then I wrap a crockpot liner around the pan so it sits just below the rim of the pan. Tie the excess liner in a knot and place your springform pan in a larger pan or dish. Pour water into the larger pan until it reaches halfway up the springform pan.
I made this particular cheesecake in a water bath and didn't use a crockpot liner as I didn't realize I had run out of them. I did a few layers of aluminum foil and water still made it's way in. So take it from me: Crockpot liners = no saggy crusts!
Other dessert recipes you might enjoy
📋 Recipe
Blood Orange Cheesecake
This creamy citrus cheesecake has the perfect amount of orange flavour while the blood oranges give it a perfect pink hue! This is a perfect winter dessert!
Ingredients
Crust
2 ¼ cups (302g) graham cracker crumbs
½ cup (112g) salted butter, melted
Cheesecake Filling
24 ounces (678g) cream cheese, room temperature
1 cup (207g) sugar
3 tablespoon (24g) all purpose flour
½ cup (117.5g) blood orange juice (about 4 blood oranges)
3 large eggs, room temperature
Blood Orange Whipped Topping
¾ cup (180ml) heavy cream, cold
½ cup (58g) powdered sugar
¼ cup (61g) blood orange juice (about 1 blood orange)
Instructions
Crust
Preheat oven to 325°F. Line a 9-inch springform pan with parchment and grease the sides.
In a medium bowl combine graham cracker crumbs and melted butter; stir to combine. Press mixture into bottom and sides of the springform pan. Bake for 10 minutes and then let cool to room temperature.
Cheesecake Filling
Reduce oven to 300°F.
In a large bowl mix cream cheese, sugar and flour until smooth. Scrape down the sides of the bowl.
Add blood orange juice and mix until combined. Add the eggs one at a time, mixing thoroughly and scraping down the sides of the bowl after each addition.
Pour the cheesecake filing into the prepared crust. Cover the outside of the springform pan with aluminum foil. Tie a crockpot bag around the outside of the pan. Place the springform pan into a larger pan. Fill the larger pan with water until it goes halfway up the sides of the springform pan. Bake for 1 hour, 10 minutes.
Turn off the oven and leave the cheesecake in the oven with the door closed for 30 minutes.
Crack open the oven door and leave the cheesecake in the oven for another 30 minutes.
Remove the cheesecake from the oven and chill overnight.
Blood Orange Whipped Cream Topping
Place heavy cream, powdered sugar and blood orange juice into a large mixing bowl. Whip on high speed until stiff peaks form.
Remove the cheesecake from the springform pan. Pipe whipped cream on top of the cheesecake and adorn with slices of blood oranges.
Refrigerate the cheesecake until ready to serve. Cheesecake is best eaten within 3-4 days.
Notes
Make sure all the ingredients (cream cheese, juice and eggs) are room temperature. This will help the cheesecake bake evenly.
Don't skip the water bath. This helps your cheesecake bake evenly and have no cracks.
Letting the cheesecake slowly cool down will help it have no cracks.
If you can't find blood oranges, regular oranges can be replaced. Or any other citrus fruit.
Nutrition Information:
Yield:

14
Serving Size:

1
Amount Per Serving:
Calories:

326
Total Fat:

18g
Saturated Fat:

10g
Trans Fat:

0g
Unsaturated Fat:

6g
Cholesterol:

90mg
Sodium:

338mg
Carbohydrates:

24g
Fiber:

1g
Sugar:

2g
Protein:

15g
All nutritional information provided on ninakneadstobake.com are intended for informational purposes only.